We Empower HR Leaders with Unique, Comprehensive Solutions
Recruiting. Retention. Engagement. Scalability.
Is there anything HR isn't tasked with? At PredictiveHR, we understand each company has different needs when it comes to their data. That's why we go above and beyond to understand each client's challenges to help them focus on what matters – their people.
Any software can identify problems. PredictiveHR is the only comprehensive solution that helps you solve them. Powered by machine learning and AI, our subject matter experts design people analytics solutions custom-built for your business. At the core, we solve people problems.
Empowering HR Solutions at These Client Partners:






Turning Data into Workforce Insights
With one solution provider, you can:
Connect all your people systems in one place for a single source of truth. We aggregate and normalize your talent data from HR, Finance, Operations and external sources into one, centralized platform.
Apply robust expertise to each element of your workforce strategy. 24/7 guidance and HR expertise to help management implement people analytics solutions and additional support to help leaders develop their workforce program.
Strengthen your existing staff to support and elevate your internal service offerings. Our comprehensive Executive Lens™ identifies performance and engagement key drivers while our subject matter experts work with you to apply that knowledge and create action plans.
The Technology to Identify and Predict Your Biggest Pain Points
Our team looked at the plethora of data available to HR leaders and said, "There's got to be a better way," and then we built it. PredictiveHR is powered by Integrity™, a platform built on AI, using machine learning to aggregate, normalize, and glean insights from all your employee data.
No matter where your employee data lives, PredictiveHR will pull it into your custom Executive Lens™ to give you the insights you need to identify pain points and solve them.
Real-time insights from every data source provide clear visibility into your organization to reveal business and performance opportunities.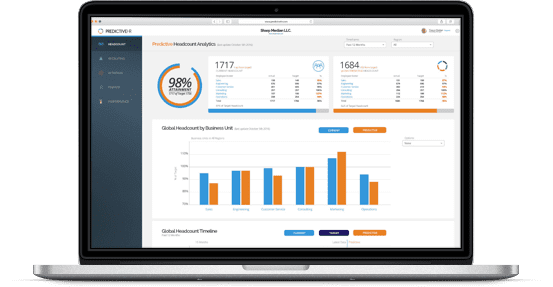 The People to Implement Your Most Creative Strategies
The best ideas in the world still need people to implement them. That's why PredictiveHR offers staff augmentation to help you drive change in your organization, support your implementations or seasonal initiatives, and elevate your team as you build the best workplace possible. Best of all, your PredictiveHR team is there when you need them, and just a phone call away when you're ready to move forward internally.
The Expertise to Support Your Boldest Initiatives
PredictiveHR delivers a unique blend of expertise and process implementation to support organizations in optimizing their talent systems. Our HR Consultants have been where you are and we can support and elevate you in all aspects of your work.
We support companies with talent attraction, employee assessments, hiring selection, and talent management...to name just a few of our areas of subject matter expertise.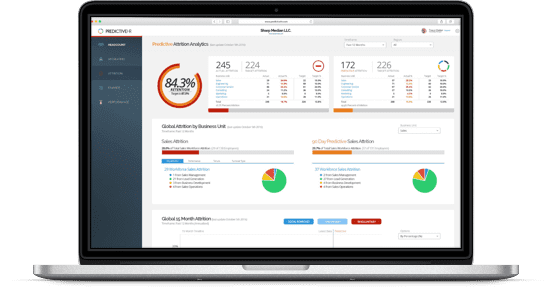 The PredictiveHR Trifecta to Support, Elevate, and Empower your Workforce
You can use PredictiveHR's people analytics solutions to identify your biggest issues and normalize your employee data. You can lean on our expertise to validate and support your boldest ideas. You can use our qualified, vetted staff to augment and scale your workload. But the best use of PredictiveHR is using all these solutions together, in a collaborative process that's available whenever you need it. Our products and services allow for more informed and impactful decision making.